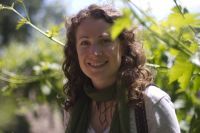 Kristin Brinkmann, CMT
CAMTC License # 37864
Natural health has been a passion of mine for years, and I see massage therapy as a perfect platform to bring balance and wellness to people in need. With a background in education, herbal medicine, and massage therapy, and interests in nutrition and yoga, I am able to bring a unique and well rounded healing experience to my clients.
I attended the Cortiva Institute Massage Therapy School in Tucson, Arizona and graduated with 750 hours and 4.0 gpa as the class president. While there, I gained clinical experience with regular clients from the public, and participated in community outreach events.
I am currently a certified and licensed massage therapist in Kern County and the state of California and I am a professional member of the American Massage Therapy Association.
With a solid base in musculoskelatal anatomy and kinesiology, I specialize in swedish relaxation, deep tissue, trigger point therapy, myofascial therapy, injury management, neuromuscular therapy, and prenatal massage.
I have a unique ability to tune in to client needs and tailor a massage by combining various modalities during a session. Based on an interview and assessment prior to your treatment, I make sure to target your desired outcome during our time together. After our session, if desired, I will recommend stretches, yoga poses, or hydrotherapy for you to do at home to maintain your wellness.
Now located in Pine Mountain Club, CA, I am excited about serving the mountain communities.
I look forward to working with you!